Executive Director, GoDown Arts Centre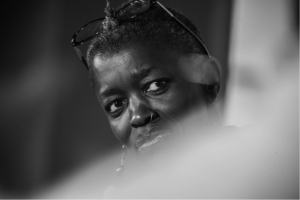 Joy Mboya is Executive Director of The GoDown Arts Centre, a leading non-profit multidisciplinary arts facility in Nairobi, Kenya. As a performer and cultural activist, who graduated as an architect from Princeton University, USA, she has led the centre's development as a site for artistic experimentation, cross-sector partnerships, creative collaboration and entrepreneurial capacity building for artists. She has spearheaded a variety of ambitious programs such as the annual Nairobi-wide festival Nai Ni Who that connects culture and city, and Manjano – the Nairobi County visual arts exhibition and prize.
Joy has served on the Governing Council of the Kenya Cultural Centre and was a member of the Steering Committee for the Arterial Network, a pan-African consortium for the cultural sector. Currently, she is trustee of Gaara Dance Foundation and a board member of Buni Media.
Her work has been recognized by several awards: she received the Head of State Commendation medal (2009) for her contributions to the development of Kenya's creative economy and was awarded the Order of the Golden Warrior (2013) for her outstanding leadership in the field.
Last updated May 2018.