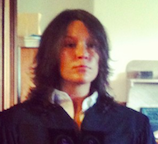 Clara is currently a Research Fellow at MIT, where she works at the SENSEable City Lab. Prior to joining MIT, Clara studied at Harvard Law School (class of 2013), where she specialized in law and technology – delving into everything from intellectual property and digital media, to Internet policy and Internet architecture.
Before discovering cyberlaw, Clara was at the University of Hong Kong, where she studied comparative philosophy of law and Chinese history of ideas. In her previous life, Clara was a professional show jumper by day, and a bartender by night. She has lived, worked and studied in Italy, the US, France, Spain, Syria and China. Her home at heart is in Torino.
Clara has published and given talks on law & literature, comparative legal theory, legal philosophy, contemporary art …and spent some of her free time reviewing films. At MIT, her work focuses on writing, content curation and everything related to IP.
Last updated December 10, 2013.